The actor who played furry character Chewbacca in Star Wars, was arrested by members of the Denver airport security (United States). The only reason: he carried a stick-shaped lightsaber.
It sounds like a joke but it is totally real.
Peter Mayhew
, the actor who gave life to the furry and giant friend of
Han Solo
,
Chewabacca
, in
Star Wars
, has had to endure an embarrassing situation to see how the police confiscated his best weapon to walk, a cane shaped lightsaber
as
used in
the
saga
movies
.
Peter Mayhew had gone to Denver, where a few days ago he attended
Comic-Con
, International Comic Convention, and he was ready to board to the plane that he would take to Texas, where he lives. But at the time of thefrisk, the agents of the airport security saw anything suspicious that forced to retain the actor.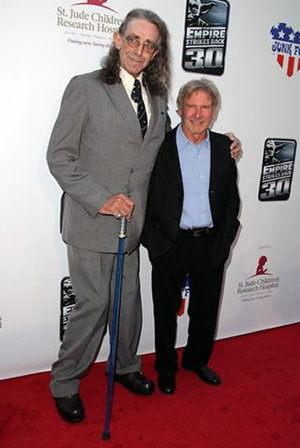 After carrying out the review, members of security confiscated his cane shaped lightsaber sword for fear to, and this is where we find the great astonishment of the news, he could use it as a weapon. We know that Chewbacca is not understood when he spoke and he had also done any folly in the movies of the
Star Wars
, but thinking that the actor use his stick as a weapon, we see the situation very exaggerated.
The actor reported the incident from his
Twitter
account, "
@AmericanAir
not allow me to be at the airport with my cane." At that time, the legion of fans of the Star Wars saga began his campaign against the responsibles for airport security. Pressure from these arose the desired effect, handing the cane to the actor.
Several minutes

after the incident,

Peter

Mayhew

wrote

again

on

his Twitter account

,

"

The magic words

for the

TSA

(Transportation Security

Adminstration

) are not

'please'

or

'thank you'

...

Is

'

Twitter.'

Cane

is free to

go home.

"

Peter Mayhew does not carry the cane because he likes to carry it. At 70 and 2.20 meters high, this good man needs to walk with the help of a cane that, making a tribute to the saga that led him to fame, is a replica of a sword jedi light.
Once again the strength and justice have accompanied Chewbacca, or rather Peter Mayhew, although we never saw his face because he always was under the disguise of a character, he has represented the most faithful and warrior member belonging to a noble lineage on the planet Kashyyyk in the Star Wars saga.