Will Smith and his son Jaden were the guests of a British television program BBC. This became a disco to the surprises that the actor had prepared the presenter and the audience.
We all know that

every time the

actor Will

Smith

is

a

television studio

just

always

strange things

happening

,

complicity

with the guests,

the presenter and

the audience

.

If

we add

the assistance of his

son and

a few

surprises

,

the

interview can

become a real

party.
This

is what happened

on The

Graham

Norton Show

on British television

by the BBC.

Will

Smith

and his son

Jaden

went to

promote their new film

"

After Earth",

in the company of

American actors

Bradley

Cooper

and

Heather

Graham

, which were

to promote,

too,

their film "The

Hangover

3"

,
Will Smith was not the first time that he went to the program and, after singing with his son, actor reminded Graham Norton, singing a rap, while he was there and he had to sing the song of the television series that gave fame to Will Smith, "The Fresh Prince of Bel-Air". But the actor had an ace, or rather a whole deck of surprises, stored inside the sleeve.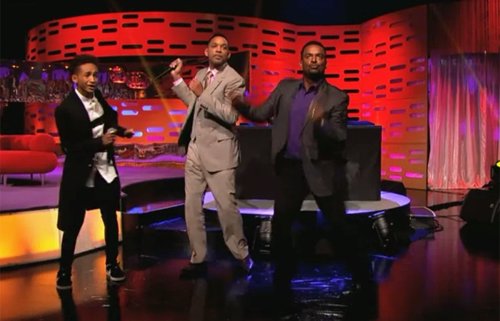 After that, Will Smith pointing to the other side
of the TV set, presented to DJ, mate of serie and great friend, DJ Jazzy Jeff, with whom he also formed a duo in the decades of the 80s and 90s. The music started and in few seconds the tune of "The Fresh Prince of Bel-Air" came again on set. Father and son singing, going crazy to the public and making them participants in this great show. But it did not end there.
At the end of the song, Will Smith yells at Norton: "You like that? ... One more little surprise, that's for you!". They start to sound the first notes of "It's not unusual" by Tom Jones, featuring his mate of series Alfonso Ribeiro, cousin Carlton. The public completely crazy for what they were experiencing, for more surprises still had rang "Jump On It" by the Sugarhill Gang Apache. Dance that became very famous in a sequence of the TV series in which Will and Alfonso dance on stage. Graham Norton, is also encouraged to dance with them.
This madness has unleashed this video on Youtube that has been seen for more than 12 million visitors.