Whoopi Goldberg has been photographed in the vicinity of the shooting of the film "
TMNT
", well wrapped, hiding what could be the attire of her character in the film. At the moment it was not immediately known what the role will have the actress in the new film project of the Ninja Turtles.
If that was not enough the secrecy with which it is carrying out the new
Ninja Turtles
movie produced by
Michael Bay, Paramount Pictures, Nickelodeon Movies
and
Platinum Dunes
, under the direction of South African filmmaker
Jonathan Liebesman
, another new surprise emerges from the depths of production,
Whoopi Goldberg
appears in the new film.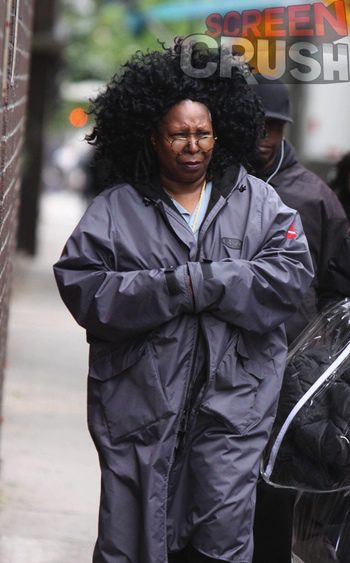 As if the actress was taking a walk, covered with a big coat and a large black curly hair that would envy even the Lion King himself, Whoopi Goldberg has been captured by the entertainment website
Screen Crush
, leaving in her wake doubt if she is making a visit and she has very cold, if the star of "
Ghost
" will make a cameo in the movie or if she will have some role in the new adventures of the 4 ninja turtles.
Everything is so under wraps that not even we know the script of the film, after more than a fan of the Ninja Turtles put the outcry, though but a cry was a roar when Michael Bay said that in the new film would be extraterrestrial characters. For this reason they had to put a little stop and delay the start of production.
What is known is that the new production of "Teenage Mutant Ninja Turtles" will be composed with Megan Fox in the role of reporter April O'Neal, Alan Ritchson, Jeremy Howard, Noel Fisher, Pete Ploszek, William Fichtner, Will Arnett and Danny Woodburn, and is scheduled for U.S. release on June 6 next year.