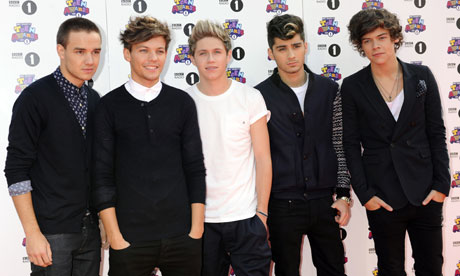 The boys of group One Direction have been forced to delete certain posts in two of the most popular social networks, Facebook and Twitter. It appears that the group encouraged to upload photos and videos allowing display a tattoo in honor of the group. One way to encourage tattooing at teens.
British-Irish band
One Direction
have been gone a little out of hand wanting to please their fans, like other artists, and have had to rectify at the last minute to receive a barrage of criticism in asking fans to go up short videos and show any
tattoos
that they have on their body and was associated with the group.
By their fans has not been any problem but by the group's detractors have provoked criticism to the One Direction boys have been destructive. And no wonder. This is the message posted on both social networks: "
Do you have a tattoo of 1 Direction? Show us! Upload a video to YouTube of 90 seconds, send it to 1d3dfan@gmail.com and explains why 1D3Dmovie should be.
"
The
text was
deleted
the next day.
Artists know that their fans do anything that they are asked.
So the guys from One Direction, big fans of tattoos, have caused this message to be an incitement without any conscience to do tattoos, knowing that many of them are teenagers and for doing this is required to take permission from the parents.
Harry Styles, the boy who received a hit of a shoe during a concert, is heading the ranking as guy in the group that has more tattoos. Recently, as a birthday present, has tattooed a butterfly on his stomach area.
We have to teach these new "children" newcomers to music and success that if they want to do for their bodies and their lifes what they want, do not have to force others to do the same as they do. We have several examples. Not to be handsome and young can do all that they. They have to be example for their followers. They should be common sense, intelligence, have quality in the music that they make, we doubt much of certain artists, and some should retire and devote theirself to do anything but go out in the tabloids every day.